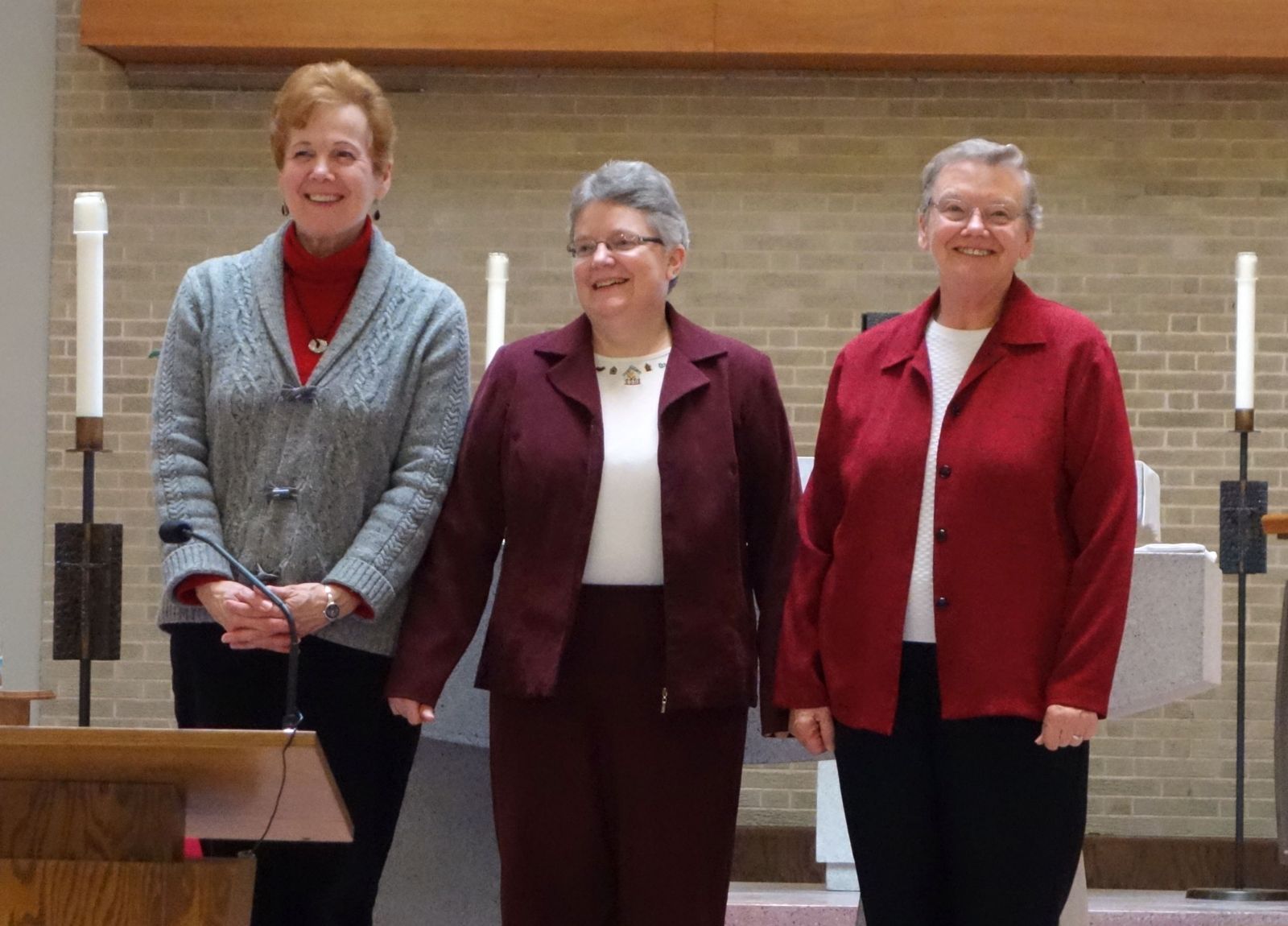 Leading the Way into the Future
In celebrating National Catholic Sisters Week, the Racine Dominicans celebrate as well a newly elected team to lead their community into the future.
On February 28, the sisters concluded the process of electing three women to lead their community for the next four years. In their Chapter of Elections, an all-community meeting held from February 23-28, they identified community directions to guide their mission. Concluding the process was the election of their new president and two vice presidents to lead them on that course.
The new Executive Committee will begin their term
July 1. Sister Maryann McMahon (center) will serve as president; Sisters Agnes Johnson (right) and Kathy Slesar will serve as vice presidents.
Each of the sisters accepting her community's call to leadership brings a diverse background and wealth of experience.
S. Maryann, a sister for 36 years, is the executive director of the HOPES Center in Racine, recently leading the six-year-old outreach ministry in its transition into expanded services in counseling, intensive case management and healing arts for Racine's homeless, mentally ill and poor.
"It's difficult to leave the HOPES Center and the wonderful people there, but seeing the ministry's expanding outreach and impact on Racine's most vulnerable has enriched my life immensely," she said. "And I do look forward to the challenges in working closely with our sisters, sponsored ministries and other partners as our community moves into the future."
S. Maryann has also served her community as a nurse; nurse practitioner; director of sisters' Infirmary; formation and new membership director; and vice president of the Racine Dominicans. Among her missions were seven years in a rural health clinic in Marks, MS, serving the poorest of the poor in the Mississippi Delta.
S. Agnes, who celebrated her 50th anniversary as a sister in 2013, will begin her third term as vice president. She has also served as a registered nurse; director of the sisters' healthcare; and hospice case manager. When disaster hit Honduras in 1974, S. Agnes joined a team to provide hurricane relief. And in 1980, she spent six months helping refugees in Thailand. "I'll never forget when a convoy of 300 new refugees came in, several of them very ill," she recalled. Patients already in the hospital began getting up and offering their beds for the new arrivals. The generosity, care and understanding among the people was profound."
Entering her ninth year of community leadership, S. Agnes looks forward to seeing the new Siena on the Lake project through to completion. "Our collaboration with Lincoln Lutheran over the past three years in creating this continuing choice living community for seniors has been challenging and exciting," she said. "For both sponsoring organizations, Siena on the Lake is a wonderful legacy to southeastern Wisconsin."
S. Kathy, beginning her second term as vice president, has been a sister for 23 years. She has served in parish faith formation (religious education), pastoral ministry, and as Racine Dominican vocation director.
"Parish ministry was all about making connections between people and helping them draw closer to God," she said. Her ministry was rooted in the ongoing question to parishioners: "How are we bringing people closer to God?" The challenge often led to parish efforts of sharing faith, reaching out to people in need, and building understanding among groups and individuals.
In leadership for the Racine Dominicans, she noted that the times ahead call for deeper and courageous collaboration. "Together we can do more than we can on our own," she emphasized. Strong evidence of this can be seen in the Racine Dominican sponsored ministries, the sisters' partnership with Lincoln Lutheran, and the many groups with whom they collaborate in their mission fund.
As Ss. Maryann, Agnes and Kathy embrace the challenge of leading their community into the future, their collective experience, wisdom, energy and enthusiasm provide a powerful guiding force for their sisters in living the community mission: committed to Truth, compelled to Justice.
---