Dominican Collaboration in DR
Mare Wheeler and Shanae Farrell will be completing their four-week mission with the Adrian Dominican Sisters in the Dominican Republic (DR) on February 10. They are grateful for the prayers and messages of support from "home." We want to share this picture of their local DR community. Back row, from left to right: Ss. Eneida, Luchey, and Basilia. Shanae and Mare have remarked that their work with the students has been "both challenging and rewarding, as you can imagine." They will elaborate on their experience when they return. Let us continue to hold them in prayer.
Alex and Murray Go To the Dominican Republic
– Mare Wheeler
Our beloved Shanae Farrell and I spent over four weeks, from January 12 to February 10, in the Dominican Republic (DR) on mission with the Adrian Dominican Sisters and associates. We were located in the villages of Santo Jose, Bani and Villa de Fundacion (basically south central Dominican Republic, about two hours drive west and south of Santo Domingo, the capital), living with three Adrian Dominican sisters in a small convent about 10 miles from the Fe Y Alegria School run by the community.
Shanae, who used "Alex," a shortened form of her middle name while in the DR (since the students could not pronounce Shanae), taught English and music in the middle and high school. She prepared middle and high school students to sing in an English language music festival that will take place in March.

Most students called me "Murray," as they couldn't pronounce Mare. I taught English in the high school, and worked with students at risk. I also moderated morning and afternoon break out sessions for students in English.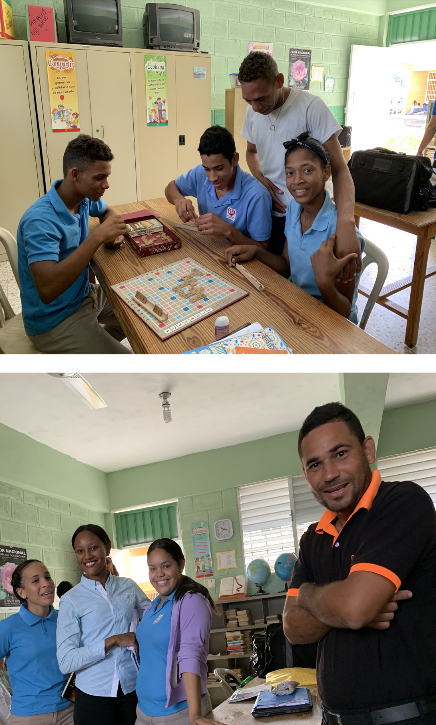 Both of us taught teachers and staff who wanted to learn English. We led (or tried to lead!) English pronunciation reviews with students during lunch break through hilarious and energetic games of Bananagrams and Scrabble – both Dominicana style!
Shanae says that the biggest challenge for her in this first time trip outside the US was travel. Traffic is unregulated in the DR, and motorbikes loaded with whole families, or with assorted cargo, zoom in and out of traffic. Having been on mission in the DR last year, I found the heat and mosquitoes were the biggest challenges. Temperatures ranged from 71-87 degrees during the daytime, with high humidity. Both of us found the rewards were so much greater than the challenges, however. The staff, teachers, sisters and students were loving, openly affectionate, and welcoming.
Want to hear more about it? Shanae and I will be talking about our trip on a Sunday afternoon in the near future. Watch email for the particulars!
Dominicans' Collaboration in East St. Louis
– Associate Office
Carol Wesley, one of our associates in St. Louis, and S. Carol Lehmkuhl, OP (Sparkhill), are collaborating on a project proposal for St. Louis's Master Gardeners to contribute original garden designs and plans for a Demonstration Cottage Garden in front of the East Side Heart and Home Family Center in East St. Louis. The project will serve the East St. Louis low-income residents and have a positive impact on that community. Both Sparkhill Dominican Associates and Racine Dominican Associates are formal partners along with the East Side Heart and Home Family Center staff for on-going support of the gardening project.
Once a thriving industrial center, East St. Louis went into free-fall economic and social decline after 1955. The causes included racism, political corruption, de-industrialization, along with population decline and neighborhood deterioration. For over 25 years, S. Carol has taught and collaborated with residents in East St. Louis, and she established the Family Center. In 1995, the East Side Heart and Home Housing was founded to build quality, affordable low-income housing in East St. Louis. The two groups merged in 2013 to become the East Side Heart and Home Family Center. As an integrated agency, the Center has constructed 18 affordable homes in the area dubbed "Resurrection Park." The organization has gone on to employ a social worker to work with neighborhood residents to deal with problems and foster a safe and vibrant environment.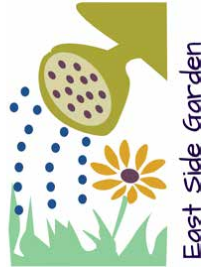 The purpose of the gardening proposal is to educate the residents in gardening skills and knowledge to enable the residents to plan, plant, and maintain garden plots in the community garden. Later, the Master Gardeners will help those residents who want to plant on their own properties.
Carol says that she wears many hats as Episcopal priest, social worker and college professor. However, in her developing role as Master Gardener working in East St. Louis, she feels that she is truly ministering in her call as a Racine Dominican Associate. May your ministry – and the harvest - be rich and fruitful, Carol!