Congratulations to S. Mary Fisher
S. Mary's lyrics were chosen from numerous entries for a hymn to commemorate the 800th anniversary of the Dominican Order. Her new translation of Dominic's "O Lumen" was published by Alliance Publications Inc., Sinsinawa.
Congratulations S. Suzanne Noffke!
On Sunday May 8, S. Suzanne Noffke was the recipient of an honorary Doctorate degree – Doctor of Humane Letters from Dominican University in Chicago. S. Suzanne was lauded both for her writings and teachings nationally and internationally on Catherine of Siena and the wealth of information in those writings now available to many people because of her diligent work. She also delivered the commencement address for the undergraduates choosing the school theme of "inspired minds and amazing possibilities."
Noteworthy Acknowledgement
The following was included in the Racine Police Department 2015 Annual Report in a write-up titled, "Racine Coalition Against Human Trafficking":
In 2012, the Racine Dominicans launched an aggressive campaign designed to bring attention to the issue of human trafficking locally and beyond. The Racine Police Department was quick to partner with the Dominican Sisters in this important matter of public safety...
Go to the rest of the write-up in the Racine Police Department 2015 Annual Report which talks about the Racine Dominican role in the progress to stop human trafficking in Racine and beyond.
Congratulations, S. Evelyn Lins!
S. Evelyn Lins, OP, received the Kay Gregor Advocate for Literacy Award from the Racine Literacy Council this year. S. Evelyn has provided nearly 2,400 hours of volunteer tutoring to adult learners.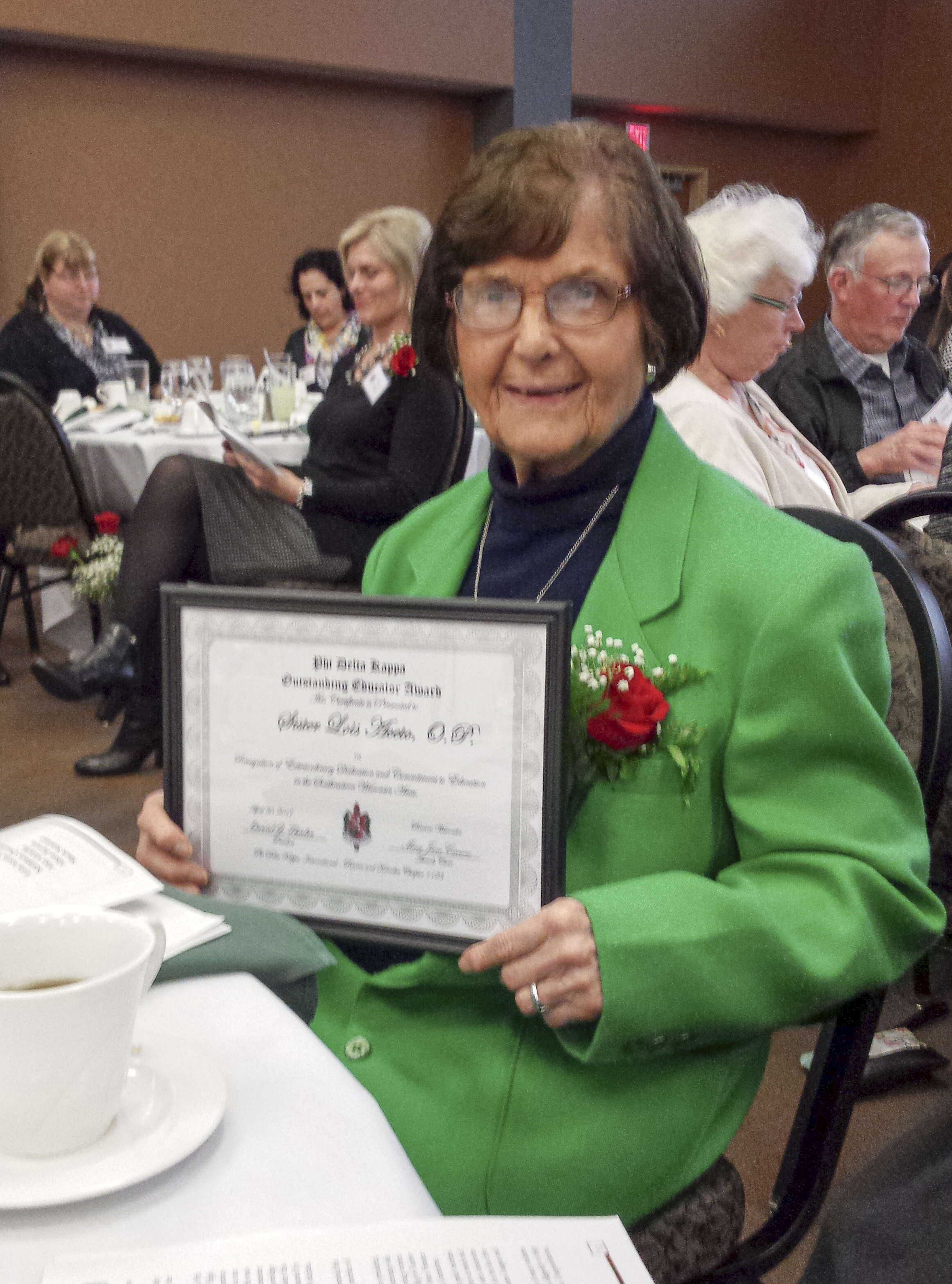 S. Lois Aceto, OP, Receives Award
On April 30, 2017, S. Lois was presented with an Outstanding Educator Award from the Kenosha-Racine Counties Chapter 1123 of Phi Delta Kappa in the Student Union at the University of Wisconsin-Parkside campus.
S. Lois was among three agencies and thirteen individuals to receive the Outstanding Educator Awards.
Two young women aspiring to become educators were also awarded scholarships at the banquet.
Congratulations S. Lois!
Jean Verber Award
The 2015 Sister Jean Verber Award was presented to Kerri Hemmig, founder and first President of the Racine Coalition Against Human Trafficking. This top honor from the Women's Resource Center recognizes Kerri's extraordinary efforts which have created a groundswell of interest from which dozens of service providers, organizations, volunteers, along with law enforcement, have come together to fight trafficking and reach out to vulnerable victems of trafficking. Not surprisingly, Jean Verber, OP is a board member of Racine Coalition Against Human Trafficking serving with Kerri Hemmig. Learn more about the Sister Jean Verber Award.
Congratulations to S. Carla Mae Streeter, OP
S. Carla Mae Streeter, OP, Professor Emerita of Systematic Theology, received the Congregation Temple Israel's Malachi Award for Interfaith Relations and Understanding. She was unanimously selected by leaders and representatives from a broad spectrum of faith communities. S. Carla Mae lives and works in St. Louis, MO.
Congratulations to S. Joyce Quintana, OP
S. Joyce Quintana received the Lucille Nielsen Outstanding Tutor Award at the Racine Literacy Council Volunteer Recognition Event on Saturday, October 11. Ss. Dorothy Greiber and Evelyn Lins received certificates to honor their milestone achievements of 2000 and 1500 volunteer hours. S. Bernadine Pohl also received a certificate for 800 volunteer hours. Other awards were given to administrative volunteers, National Adult Education Honor Society, and Winners of "Summer Read."
Congratulations to S. Jolene Van Handel, OP
S.Jolene Van Handel, OP was one of five recipients of the Rey of Hope award given by the Detroit Cristo Rey Garden Party because of her "special impact" on on the Detroit Cristo Rey High School. All recipients represented the many people involved with the founding of the school.
S. Jolene said, "I think the award belongs to the community for the great support Cristo Rey has received from the Racine Dominicans."
Congratulations to S. Suzanne Noffke
S. Suzanne Noffke, OP has been made an Honorary Associate by the Board of Directors of the International Center for Catherinian Studies. This recognition was bestowed for "great past and present work in the area of 'studies of Catherine of Siena and the spread of Catherine's teaching.'" It is in honor of S. Suzanne's "tour de force," the translation into English of the complete works of Catherine of Siena (The Dialogue, The Prayers, and approximately 385 letters published in a four volume series). This allowed, for the first time, the English-speaking world to experience Catherine of Siena in all of her own writings.
Dr. Suzanne Noffke is a Racine Dominican and an internationally recognized scholar on Catherine of Siena. Besides numerous articles, she has authored:
The Dialogue of Catherine of Siena
(Classics of Western Spirituality Series)
The Prayers of Catherine of Siena
The Letters of Catherine of Siena
Catherine of Siena: Vision Through a Distant Eye and
Embrace the Swelling Wave (Vol. 1 on the history of the Racine Dominicans).