Like Mary, his mother, Mary Magdalen "kept all these things, reflecting on them in her heart." Her first appearance is in Luke's Gospel, Chapter 8 as "one of the women who accompanied Jesus as he journeyed from one town and village to another, preaching and proclaiming the Good News of the Kingdom of God." Luke names her also as a woman healed by Jesus who provided for Jesus and the Twelve out of her resources.
Mary Magdalen went forth in the darkness, always focused on the ONE she loved and the ONE she knew loved her. Unwavering in her fidelity to Jesus to the end, she stood by and stood with Jesus in his most painful moments on earth. She was up close with Mary his mother at the foot of the cross witnessing his cruel death and final burial.
After observing the Sabbath, it was Mary Magdalen who came to the tomb with spices to anoint the body of Jesus. Easter morning: radiant with the presence of the Risen Christ…and it was Mary Magdalen who first witnessed it all... She got it….She believed and filled with the joy of seeing Jesus alive, she was sent as a bearer of the Good News to wake up the apostles and send them back to their formation spot in Galilee.
They believed Mary Magdalen's testimony: "I have seen the Lord!" – What a marvel! – and they went on their way to see the Risen Christ. Surely Mary Magdalen was one of women who with Mary, his mother, joined the apostles and disciples in constant prayer in the Cenacle, awaiting the fulfillment of God's presence.
Mary Magdalen is a woman well remembered for what she did: she stood by & with Jesus to the end…she was the first preacher of the Good News of Resurrection. Although there are few of her words recorded…her presence and her fidelity are what we have to remember Mary Magdalen and claim her as our Patroness, our Guide to contemplative living and compassionate giving.
Mary Magdalen must have had a strong influence on our founder,
St. Dominic. Her active-contemplative life, her all-absorbing love of Jesus, her call to announce the Good News to the disciples was for Dominic a portrait of the true preacher and proclaimer of Truth.
Mary Magdalen gave from her resources. We, as Racine Dominicans, strive to give from our resources as we support our sponsored ministries and other urgent needs through our Mission Fund.
Our 2014-2018 Direction Statement identifies our commitment to "grow as a hope-filled contemplative presence actively engaged in a world hungry for meaning and basic human rights". Like Mary Magdalen we are open to a powerful experience of resurrection, new life through our Siena on the Lake Project.
Retreatants who "come to the water" to be nourished, renewed and healed reflect the wonder and gracious outpouring of Divine Love as we all strive to live faithful to our call expressed by Meister Eckhart, a 13th century Dominican mystic:
"What we plant in the soil of contemplation,
we shall reap in the harvest of action."
---
Instructions
Gather all ingredients. Be sure to allow enough time for the bread to rise and take shape, This bread must be made ahead of time. Except for emergencies, it cannot be made the day it is needed. Treat all ingredients very carefully and don't forget anything.
Explanatory Notes About the Ingredients
Preacher: Be sure she is well-cared for and healthy in all areas (physically, emotionally, and spiritually)

Faith: in God, in self, and in the call to preach.

Passion: Exact amount is crucial, too little and no one will hear the whispers, too much and no one will hear the shouting.

Study: Cannot be neglected if the bread is to be fresh and again, use exact amount (don't skimp).

Scripture passages: Not necessary to memorize but not enough to simply read, rather need to be understood, believed, proclaimed.

Prayer: KEY ingredient - see instructions.

Salt: Be sure it hasn't lost its flavor.

Holy Spirit: Trust that God provides this ingredient.

Heart: Needs to be soft and warm; a cold, hard heart will only produce cold words unyielding to conversion.

Yeast: Love of God, self, and of the community is the key to making this bread rise. The more love you add, the higher the bread rises.

Experiences: Amount varies, just include different ones as needed.

Pain, Wonder, Compassion: Amount varies, be sure to include each, otherwise bread will be too fluffy, not very appealing, and might seem artificial.

Spices: Some loaves will have more spice than others, know when to add but keep amount varied, otherwise bread will be too spicy or too bland and people will not eat it or they will go hungry.

Tears: If dough is not moist enough, add a few tears but don't add too many or bread will be mushy.
How to make the bread
Mix preacher, faith, and Scripture, let stand.




Dissove yeast into heart, mix well.




Combine passion, experiences, spices, salt, pain, wonder and compassion and add to yeast mixture.




Add study, slowly, to above (so that the study is absorbed) then add to preacher mixture.




Add prayer, a bit at a time, until the mixture is easy to handle.




Knead dough, continuing to add prayer until the entire mixture is smooth, pliable, and yields to the touch of God.




Cover dough, let rise (preferably overnight(s)).




Punch down dough, gently, add more prayer if needed.




Shape into loaf that fits the preacher (remember it is God who does the shaping.)




Bake with the fire of Baptism.




Bread is done when it's firm on the outside and soft enough to be broken on the inside.




Serve immediately while still warm. Lukewarm or stale bread will not suffice.




Bread must be broken to be most nourishing.
Enjoy making Preacher's Bread. Please remember that every loaf will be different. The bread won't always turn out as we hope or expect. Sometimes it will have holes/tears and be flat. At other times, it will surprise us with its flavor and lightness. Regardless of how it might taste, it will always be nourishing for someone, God promises us that. For we who feed on the Word of God will never go hungry. Don't stop making it for there are many who need to be fed. Blessed making, blessed breaking Preacher's Bread.
B. Write letters to the editors of local papers and urge them to encourage their readers to be involved in caring for the environment. Church members and other groups can be motivated to get involved in finding solutions and putting them into practice. Preaching is another way to stress that care for the environment is a moral issue. Pope Francis states clearly us that a culture of waste is deplorable, given the vast amount of hunger in our world today. The United Nations has re-enforced this idea when they stated "that one in every seven children in the world go to bed hungry and more than 20,000 children under the age of five die from hunger." We cannot allow this to continue or we will share in the responsibility. It is mind-boggling to hear about the amount of food that is wasted. For several years, we have been reminded of the need to reduce, reuse, recycle. People can discuss ways that this goal will be accomplished. Pastors can urge their congregations to assume their moral responsibility of caring for the environment.
C. Families and individuals may choose to live a simpler lifestyle by eating healthy and appropriate foods All over the world, many people are suffering from obesity and need to eat less and healthier foods, use leftovers, and avoid throwing them away. Throwing food away is like stealing food from children and adults dying of hunger. We need to show respect for all human life and work to protect it.
D. All of us need to make an effort to keep the air clean. We may choose to walk instead of going by car when possible. This will help reduce the amount of pollution in the air.
E. Use items that are recyclable including cans, bottles and paper and also use wash cloths when possible, instead of using paper towels.
F. Do not waste water by letting the tap run when not necesssary. Do not leave lights on when you are not using them. The same applies to use of television.
G. Believe in the importance of what each person can do to show our respect and care for the earth. It is God's gift to each of us and deserves our care. We are all called to responsible stewardship. Let us begin today with courage, conviction and hope. No effort is too small to make a difference. Let us make every day Earth Day.
Prophetic preaching was always, (AND IS STILL) a concern of the Dominican Order. Dominic … left us with a mission of being ambassadors for Christ and to work at implementing God's plan in our time and place. He reminded us of that when he confronted untruth and challenged it boldly, he did so without counting the cost.
Compassion for the poor of his time was very evident in his life, and we are called and challenged to do the same. Reliance on God's Word and the power of the Spirit guided him in accomplishing the task at hand. He always endeavored to follow the Gospel way of life, sharing God's mercy with all humankind and especially with those troubled mentally, physically or spiritually. One example was when he found a man about to be taken into slavery, he offered himself in exchange for the man in this situation. He was ready to become enslaved for the sake of another, using Jesus as a model of (CARE), mercy and compassion.
The Gospel requires us to be advocates for people in dire situations and to reject the common myths about people in poverty. It also calls us to look at our own lifestyles and let the pain of others touch us (AND THAT WE FEEL THEIR PAIN AND SUFFERING: EMPATHIZE). Then we will be able to hold up and live more clearly God's plan for all people.
Prophetic Preaching calls us to challenge the status quo, pointing out where things have gone wrong and bringing God's vision for our world to the fore and pointing out how ordinary people of all ages and conditions can become involved and be part of the solution. Pulpit preaching must be based on God's Word and God's vision for our world and promote a just and peaceful society. We need to let the suffering of people get inside of us and stand in solidarity with the poor. Then we can call people to action. This will include concern for the many injustices of our day, such as human trafficking, AIDS, ongoing wars, corporate corruption, the need for immigration reform and many more. We also need to speak clearly (OPENLY) and convincingly about the wrongs involved and then move to action. All can be included in the prayers of the congregation.
These responses may frequently bring us into conflict with society (AND AUTHORITIES, BOTH SECULAR AND RELIGIOUS) but we cannot let that deter us from accomplishing our mission. This is often an issue with pastors who may fear losing their income and their membership and even their pastoral position. The Word of God will sustain us through the struggles and with the power of God "we will be able to do infinitely more than we dare ask or imagine."
There are times when the preacher needs to be pastoral,(feeding and taking care of his sheep) listening to the pain and stresses of the congregational members and bringing them comfort,(strength, encouragement, support) and hope and guiding them gently into God's comforting care. There are also many occasions when prophetic preaching can be done and with good results. We need a renewed interest in prophetic preaching today in order to address the injustices all around us and to challenge the status quo. (just as the Old Prophets did and now continued by New Prophets: both men and women)
All members of the congregations and organizations can include in their prayers and responses, the many needs of individuals and of our society. If we don't feel ready for the awesome task, we can count on God's Word to empower us and sustain us every step of the way.
Our life itself will be a preaching and not just the words we speak. This approach will keep us hopeful and sustain our efforts to keep God's wonderful plan for all people before our eyes Then there will be no strangers in our midst, only friends we have not yet met. Let us begin today with courage, conviction, (commitment) and hope.
---
A Re-energized Catholic Church Requires the Efforts
of Leadership and Membership
by S. Brenda Walsh, Racine Dominican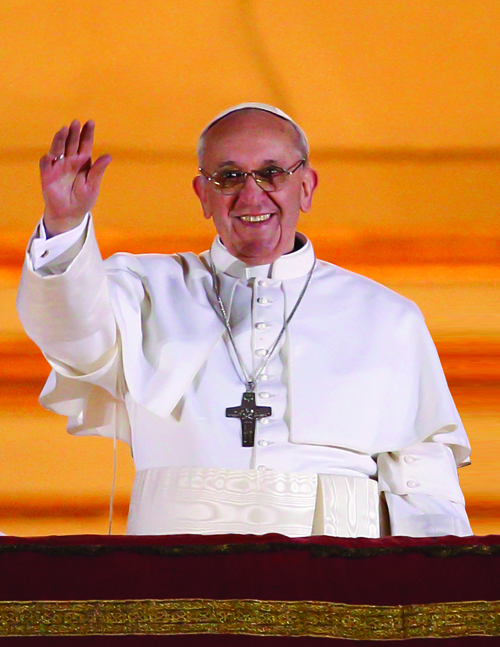 As we welcome and celebrate the election of our new leader, Pope Francis, in the Catholic Church, we pray that he will be guided by the Holy Spirit in his very important role of leading the one billion Catholics worldwide who are commissioned to carry on the mission of Jesus.

Before the election, many expressed their hopes clearly and directly. They want a leader who will take the mission of Jesus given to the early members, to preach the Gospel to the ends of the earth. We are to study that mission and bring the Good News of the Gospel to all people and cultures of our time. To fulfill this mission, leaders and members must be led and nurtured by the Holy Spirit. This calls us to remove all that hinders the work of the Spirit in our midst, issues like prejudice, power and control, lack of connectedness to the vital issues of our world today, lack of understanding and contact with people of other cultures who are a growing part of the membership at this time. Dealing effectively with the scandal of clergy sex abuse must be effectively addressed. The gifts of all church members, male and female, and people of all ages, should be recognized, developed and used for the creation of strong faith communities.

We start out by leading people to study Scripture, do faith sharing, and use contemplation. Pastors and other leaders will be trained in good preaching and leadership practices. The Church cannot successfully transform culture without first transforming itself. Gandhi once said; "We must be the change that we want to see happen" Children and families are to be well prepared in faith formation and for living their faith wherever they will be. Leaders also must be in touch with the issues individuals and families are struggling with today. Deep listening to the needs of individuals, families and society is an important requirement of leadership today. We are hopeful that our new pope will effectively accomplish these goals.

The Church membership must also be dedicated to working for justice and peace and creating a culture of non-violence in both public and private life. It is important to be aware of the issues that affect people's lives and deprive them of the means to live a full and meaningful human life. Members also are encouraged to know their political leaders and be ready to speak truth to power and engage them in restoring compassion, justice, and peace to a broken and bleeding world. People could gather in small groups and explore ways to address these issues as part of living their faith.

There is a growing effort to meet the needs of parishes where there is a great shortage of priests and spiritual nourishment for the members. The gifts of women should be recognized and used to fill this need. There are many ways to involve and train youth to name and use their gifts in meaningful ways to help people in need. Welcoming people of other cultures is also very important. We can learn from their ways of expressing their faith, and help them put their faith into practice wherever they are.

All of us must practice civil discourse as a tool for healing and understanding each other in both public and private life. We are all called to reflect and ask ourselves "How do we individually and as a community need to be transformed to reflect the face of Jesus? Name some of the things we can do as members and leaders of the Catholic Church to reach out effectively to the ends of the earth, so that God's purposes will be fulfilled through us. How can we restore hope in the Catholic Church? The choice is ours. Let us begin today with courage, conviction and hope. With God's unfailing help we can accomplish our mission. No effort is too small to make a difference.
---
A RENEWED CALL TO PARTICIPATE IN THE NEW EVANGELIZATION
S. Brenda Walsh, Racine Dominican

Evangelization is not a new idea. It dates back to the disciples of Jesus who were sent by him to preach and share the Good News of the Gospel with all people even to the ends of the earth. Evangelization is an important part of the year- long celebration of the 50th Anniversary of Vatican Council 11. The most recent Synod of Bishops held in Rome in October 2012 took up this issue.

Pope Benedict XV1 described the renewal in these words: "Christ comes to each of us to teach us the art of living. The world today needs people who will speak to God and about God. To be an evangelizer is not a privilege. It is an important part of our faith. It means to share the faith with people who have never heard of Christ and strengthen the faith of those who have drifted away from the church and are looking for spiritual nourishment elsewhere."

At the opening address to the Synod of Bishops in Rome, Archbishop Rowan Williams spoke about the profound connection between contemplation and evangelization, saying :"it must be rooted in a profound confidence that we have a distinctive human destiny to show and share with the world This is the key to prayer, liturgy art and ethics….the key to a renewed humanity that is capable of seeing the world whole and free from self-oriented, acquisitive habits and distorted understanding that come from them. Contemplation is the only answer in our world today. We need to contemplate to learn what we need to do, so as to live truthfully and honestly and lovingly. "The Bishop also said we need to get to know and respect people of other faith expressions. "The Report Preceding the Discussion at the World Synod of Bishops" is available in the 10/21/12 issue of Origins. 3211 Fourth St. NE, Washington, DC 20017Go to www.originsonline.com.

You can get the full text on the Archbishop's website http://www. archbishopofcanterbury.org/articles.php/2645/. Quotes in this article are printed with permission of David Brownlie-Marshall, Press Office of the Archbishop.

Fr. Bruno Cadore, OP, was invited to be part of the Council. Our call as Dominicans is to preach the Gospel not only by our words but especially by the witness of our lives. To "Be still and know that I am your God" is the foundation of contemplative living. God is to be found right where we are, in whatever situation we find ourselves. People in parishes can be taught the importance of contemplation and prayer. They are a necessary preparation for touching the Divine that is always available to us. Then we can allow the Spirit to touch the inner core of our being and to allow that same Spirit to lead us to act with justice on behalf of all the suffering people in our world. We are also reminded that we are all part of the human global family, not just the people around us. We can gather people of other cultures, creeds and places of origin, to imagine and discuss the kind of world God has in mind for the global family. Then they can decide what part each of us can play in creating such a world. Contemplation and action are not two separate things we can do. They are but two sides of the same coin.

When we take time to pause and ponder what our lives are about, we reach out in love and compassion to bring hope and healing to a broken and bleeding world. We get in touch with the transforming power of God 's presence working in us and through us in our world today. We discover that all of life vibrates with the divine life and invites us to join in the daily journey of transformation. Fr. Don Goergen ,OP, a well-known and respected Dominican priest, reminds us that "The fruit of our contemplation is a diminished self-centeredness or self-preoccupation. We become more centered and we discover that our true center is beyond us, that we are not the center of our universe ourselves." We are led to a deeper self. Our personal transformation leads us to connect with the transformation of our world and allows us to engage the world more deeply from within a Deeper Source.

"Be still and know that I am your God."

We all need to embrace the call to work for justice and to collaborate with one another and with all those to whom we minister. There is no limit to our possibilities when we make room for the action and transforming power of God in our lives. Let us begin today with courage, deep faith and hope.

Another good source of information is "The New Evangelization in Origins, CNS Documentary Service, Washington DC 20017, March 1, 2012 issue, Volume 41, Number 38. Go to http://www.catholic news.com. Go to http://op.org/en/content/fr-bruno-cadore-challenges-evange.

---
CREATING A CULTURE OF PEACE IN HOMES AND FAMILIES
By S. Brenda Walsh, Racine Dominican

Some time ago, faith communities were asked to address domestic violence, which is a growing concern in the US and beyond. It is a major contributor to the overall picture of violence in any community. In almost every newscast, we hear stories of such violence. We hear the cries of children dying from abuse, neglect and conflict, which often become deadly. Some are desperately looking for a way to get involved in putting an end to the violence. Many who are in abusive situations are living in great fear and do not report abuse because they fear retaliation. Others are embarrassed to report it.
Several efforts are being made to address the needs of families. Many people are working to provide a safe and nurturing environment for famiies and communities. Many challenges remain to be addressed, and it will take everyone's contribution in the public and private arena to accomplish the goal of peace and harmony.
What are the causes of violence? It can happen to all classes of people and walks of life. Some believe it happens mainly in the minority population or among the poor. This is far from the truth. In recent surveys, the causes are many. It may come from fear, unforgiving attitudes, jealousy, economic woes, easy access to weapons by people who out of control, and people who are prejudiced. Usually it is a way of one person gaining control over another. Some are mentally ill or suffering from post- traumatic stress syndrome. Many of the victims are afraid to leave their abusive situation because of what effect it might have on the lives of their children.
It has often been found that children who witness parental violence are more likely to turn to drugs or alcohol to help them survive. They experience difficulty at school and have low self-esteem and some even consider suicide. These ailments must be treated at all levels. A way to confront the abuser must also be found in order to bring about change. Women must find support when they decide to leave their abuser. Often, they experience depression and need help to get through it.
Every fifteen seconds, a woman is beaten in the US. Many are abused by a spouse or partner. Domestic violence is of epidemic proportions and often happens right around us. The cost of domestic violence exceeds 5.8 billion dollars each year. 4..3 billion of that is for direct medical and mental health services. One in three or four women is battered once in her lifetime. Many of those suffering are afraid to leave an abusive situation. They have children to care for and cannot find a way out of their misery and need help.
What can people do to address the issue? Some resources are available, such as the National Resource Center on Domestic Violence (www.nredv.org) and Battered Women's Justice Project at (www.bwjp.org ) The Racine Dominican Community sponsors Bethany Apartments, which helps adults and children face the future with hope. They provide a safe environment for families who have been in abusive situations. They help children get through school successfully, learn to live cooperatively and to appreciate and respect each other. For young adults, they teach them how to prepare for life and work. You can contact them for more information by phone at 262-633-9446 or by fax at 262-633-9463. Go to www.bethanyapartments.org

What can people do to address the issue?
-There is a great need to educate the public. This will dispel the myths about the problem and will inform people about different forms of violence and ways to address it. All ages must be educated about the issues.

-Help prevent violence before it starts. Children are bombarded by violence and aggression in the media. Carefully supervise the movies and games that they use and help them make better choices. All need to learn to control anger before it escalates to violence.

- Learn about programs that help prevent violence and assist the abused adults and children. Help family members find ways to get out of an abusive situation before it is too late.

-Teach young boys about domestic violence and abuse and show them how to keep their anger under control. Train male mentors to assist children and youth Show people how to respect themselves and show the same respect for others. Check your area to see if such programs are offered – such as a family violence advocacy network.

-Urge local churches to get involved in addressing violence and helping people get out of violent situations.
Mahatma Gandhi has much to offer about addressing violence, and to helping people live in peace and harmony in homes and communities. Among his suggestions was the need to develop tolerance for others, and to be kind and peaceful to those who share our lives. He also stresses the need for forgiveness and to get rid of grudges that often lead to revenge and more violence. We should also asks forgiveness of those who have hurt us.
Gandhi also said "we must be the change we want to see in others." Peace starts with each of us, in our minds and hearts. We count on the ever-presence of our God to enable us to bring peace and harmony to those with whom we share our lives. We are called to be God's lanterns and allow God's light, love and forgiveness to shine though our lives.

A mother and grandmother to whom I spoke recently said: "We are all potential victims and we need to get busy and work on a solution." No effort is too small to make a difference. May we continue our efforts with faith, hope and love.

---
PREACHER
Brenda Walsh, Racine Dominican
Deeply rooted in solid ground
of God's enlivening Word,
nurtured by contemplation and prayer,
study, community, listening
and responding to the Word.
PREACHER,
Truth Bearer, fearless preacher,
Tireless Torch,
lighting the weary world
starved for meaning and hope,
dispelling myths, unmasking idols
of our day with Light of Truth.
PREACHER,
Daring Dreamer
of a world winnowed of falsehood,
freed from weapons and war,
transformed by God's healing touch,
birthing new life in dark and dreary places,
lighting the world with hope.
"How beautiful upon the mountain are the feet of the messengers
who announce peace, and who bring Good News."
Is. 52:7
---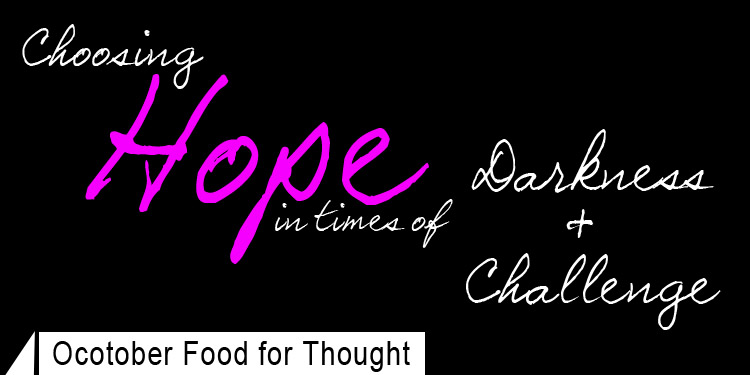 CHOOSING HOPE IN TIMES OF DARKNESS AND CHALLENGE
By Sr. Brenda Walsh, Racine Dominican
The recent shooting and killing of innocent people and critically injuring many more in Colorado sent shock waves around the world and many are asking the question "How do I choose hope in these dark and challenging times?" There is no easy answer to this question but it needs to be explored.
We can and must believe that even in the darkest times, God's hand will always hold and support us. It calls us to believe that even behind the darkest clouds, there is something more that will bring sunshine into our lives. Hope is in the expecting and the waiting. We can never give up even when there is no visible sign that things will be better. Is. 43:2 tells us "When you pass through waters they will not swallow you up. When you go through rivers, they will not sweep over you" In the power of the Spirit, we are sent to reflect God's healing, mercy and hope and forgiveness to all that we meet.
After the tragic events in Colorado, we heard many stories of compassion when people were reaching out to those affected by the tragedy, and helping them live through their pain and loss. People gathered in many groups to pray for those who lost their loved ones and also with the hope that people would not respond with revenge. Some were discussing what they could do to replace the violence in our communities with peace, justice, love and forgiveness. We can all reflect on God's plan for our own lives, our communities, nation and world, and work with others to make God's plan a reality in our time and place. No matter what the challenges are, nothing is impossible with the power and grace of God.
As we journey with Jesus, we all experience many life challenges. If we focus only on the problems, the result is we will intensify the pain and become engulfed in fear and doubt. Sometimes such events can bring about transformation in our own lives and in our communities and helps us to search for deeper meaning as we continue our life journey. We are reminded of the Gospel story of Peter walking on water to meet Jesus. When Peter looked down and saw only the waves, he began to sink. When he kept his eyes on Jesus, he arrived safely at his destination. Choosing hope is the only way to go and succeed. Our hope is based on our faith in God, not a God somewhere up in the clouds but a God who is described in Matthew's Gospel as one who says: "I am with you all days even to the end of the age." This is not an avoidance of the problem. It means we must ground our hope on the reliable promises of Jesus who never fails us.
May this event challenge us to look at all the violence in our homes, communities, nation and world, and do what we can to replace the violence with peace, forgiveness and justice. Can we speak out about all the wars we as a nation are involved in and find other ways to address conflict and divisions. Complaining about the problems we have inherited will accomplish nothing. We become stronger and more compassionate when we live with hope. Often the darkest hour is before the dawn. Some fearless leader in the past has said: "We are as small as our fears and despair and as great as our courage and hope."
"Loving God, may we be your partners in hope this day and every day."
No effort is too small to make a difference.
A RENEWED CALL TO RESTORE CIVILITY IN POLITICAL DEBATES AND OTHER AREAS
By Sr. Brenda Walsh, Racine Dominican
Recently the Wisconsin Council of Churches and other groups are calling for a Season of Civility, especially before elections. That does not mean that we eliminate debate about public policies and issues. Debates include people of different faiths, beliefs, opinions on issues, both social, political and religious issues. Hostile and abusive rhetoric is not appropriate in any sphere of life, especially in public debates. Often the dispute is not only about the issues but especially about the means of achieving solutions. Wisconsin Cl. of Churches hopes we will share this call with other congregations and organizations.
We all know the golden rule that calls us to treat others with the same respect with which we would like to be treated. This calls for open and honest conversation and the valuing of each person involved in the discussion. The goal is to arrive at consensus in order to achieve the common good which our faith requires of us. We are called to reach out and listen to and try to understand people of differing viewpoints and model civility in our own conversation in both private and public life.
Our faith communities are where this call to civility must be lived and practiced. **Civility must be practiced within congregations, assemblies and other forums.
**We need to clarify our own positions on issues and to articulate them clearly and respectfully and be open to explanation or clarification.
**We are aware that we do not always know the correct or adequate answers to problem and we must be open to correction and reconsideration, without betraying our own convictions.
**When political debates are arranged, we must inform the candidates of standards of civility, integrity and truthfulness and not engage in mud-slinging at each other. The media can also be encouraged to follow the same rules of civility in public discourse. As our congregations preach about compassion and respect, we will rediscover ways to listen to and learn from our differences and model for others what a healthy democracy looks like.
For more information and to get the full document, go to ddewinter@ncccuse.org.
The effort mentioned here is designed to develop communities that are unified in their commitment to wholeness, justice and peace not only in the church but also in the world. This will replace the partisan rancor and bitterness that now exists within political debates with respect and civility. We are all encouraged to pray and work together for the unity and renewal of the church and the healing and reconciliation of our world. Congregations are encouraged to share this information and call to civility within congregations and beyond. May peace prevail on earth and let it begin with us.
This information not only applies to Wisconsin but to all communities across the nation and beyond. The whole idea of democracy is to heal the partisan divides and to replace them with caring and just communities working for the common good.
Food For Thought - August
August
Food For Thought
DOMINIC, PREACHER OF GRACE
Dominic dreamed a world
freed from war and violence,
winnowed of greed and falsehood,
mirroring truth and goodness
in every sphere of life.
Dominic preached in Spirit power,
filled with compassion and mercy,
visioning many grace-filled followers,
men and women of the Word,
Preachers ablaze with God's dream.
Dominic walked the way,
reaching out to new frontiers
with steady torch of truth held high,
steeped in prayer day and night,
releasing streams of light.
An unexpected future
lies in wait for those who live
deeply rooted and formed in the Word,
watered by God's abundant grace,
daily living Dominic's dream.
PENTECOST PEOPLE,
Preachers of Grace in our time,
beaming the blessings
of our Loving and Faithful God.
by Brenda Walsh, OP
--------------------------------------------------------------------------------
Question from the Preaching Committee
(from the celebration of 500 years of Dominicans coming to the Americas)
Are we Dominicans open to conversion? This implies an openness to restructure our way of thinking. We may lose friends. But is this not what the Gospel asks of us? Am I open to rethinking what I have been doing or not doing in relation to the urgent questions of our time? Let us all work together to promote deeper care for earth, justice, life and peace – to promote the right to live and the right to live with dignity – as we commemorate the arrival of the first Dominicans and their Holy Preaching in this part of the world.
May all of our efforts be blessed.