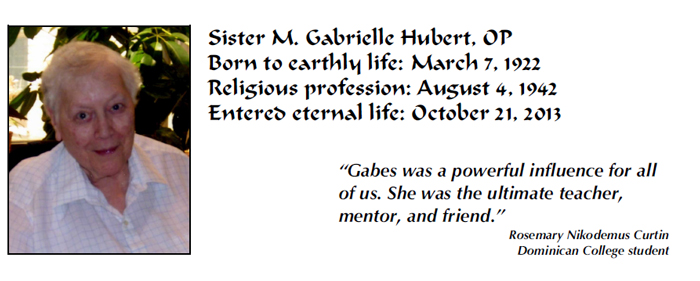 On March 7, 1922, Martha Mistele and Herman Hubert of rural Tomah, Wisconsin, welcomed a daughter. At her baptism at Saint Mary's they named her Monica Agnes. She would eventually have twelve siblings; so Monica learned early how to manage a rowdy group of kids — "often with a broom!" noted Larry, one of her many younger brothers.
When Monica was about six, she was sent to live in town with a grandmother so that she could attend the Catholic school. On her very first day there she decided she was going to be a sister like her kindly first grade teacher,...read the rest of Sister M. Gabrielle Hubert's obituary by Sister Suzanne Noffke.
---
Sister Gabrielle Hubert, OP
Born to earthly life: March 7, 1922
Religious profession: August 4, 1942
Entered eternal life: October 21, 2013

"Gabes was a powerful influence
for all of us. She was the ultimate
teacher, mentor, and friend."
Rosemary Nikodemus Curtin
Dominican College student

Rosemary's sentiment has echoed throughout cyberspace as former students of Sister Gabrielle Hubert learn of their beloved teacher's death and share their own memories on Facebook and in emails. They respected her as a demanding teacher who made history come alive, and they appreciated her ability to make them think and stretch them far beyond their own expectations...
Read more of S. Gabrielle Hubert's obituary by Jean Mullooly
---
Sister Gabrielle Hubert
(drawn primarily from S. Gabrielle's 1998 oral history)
What first made you want to be a sister?
I come from a large family and grew up on a farm near Tomah, Wisconsin. When I was old enough to go to school, my mother sent me to live with my grandmother in town so I could attend the Catholic school, St. Mary's. On the first day, S. Therese de Lisieux met me at the door, and she was so nice,
I decided right then I was going to be a sister when I grew up. I never did talk myself out of it!
Why did you choose the Racine Dominicans?
The only sisters I knew in Tomah were the Dominicans who taught at St. Mary's. They were wonderfully kind to me, and I enjoyed school very much. This was during the Great Depression, and my parents sometimes would bring chickens from the farm into the sisters. I didn't know till later that the sisters hadn't been paid for their teaching in several years. All they had was what people brought to them.
What was one particularly cherished memory of your years in ministry?
I really enjoyed teaching at Dominican College; they some of the best years of my life and resulted in wonderful friendships. Then in 1970 I went to Morehouse College in Atlanta, which brought five and a half wonderful, exciting years. I lived in a black men's dormitory and this is when I got a strong sense of what life was like in the black community.
What have you enjoyed in retirement?
I loved getting outside to take pictures when I could and then enjoyed making greetings cards with the photographs.