S. Clara Dischler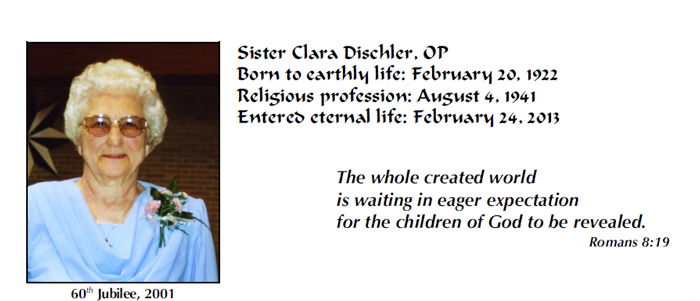 Martha Bridget Dischler, daughter of Joseph and Mary Laubmeier Dischler, first saw the light of day on February 20, 1922, in rural Plain, Wisconsin.
Even as a child, little Martha enjoyed exploring every aspect of nature and all its creatures around her family's farm. And even
as a child, as she attended the parish school at Saint Luke's, she knew she wanted to be a sister like her Racine Dominican teachers...
Read more of S. Clara Dischler's obituary by S. Suzanne Noffke.
---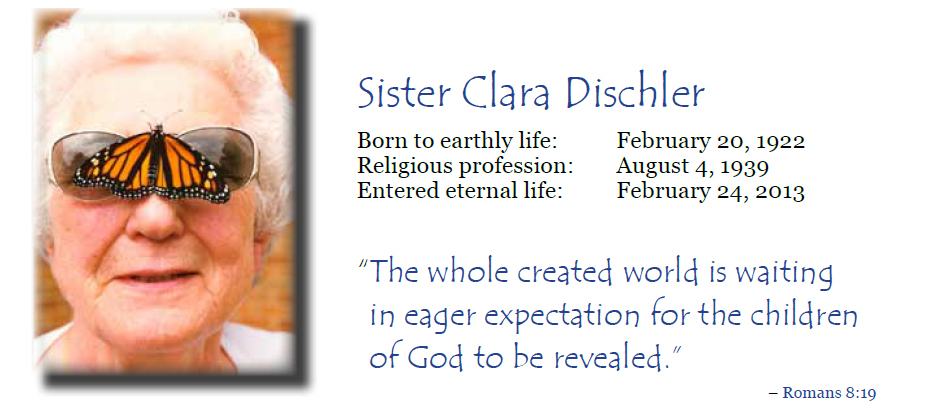 From an early age, little Martha Dischler loved science and enjoyed exploring all the creatures and aspects of nature around her family's farm near Plain, WI. Also from an early age, she knew she wanted to be a sister. Racine Dominicans taught her at St. Luke School in Plain, and it seemed only natural to join their community when she finished eighth grade.

Not surprising, then, is that Martha grew up to become Sister Clara, a highly respected teacher of science for over 50 years. With a background in geography, botany, chemistry, and zoology, she shared her love for science and nature with children...