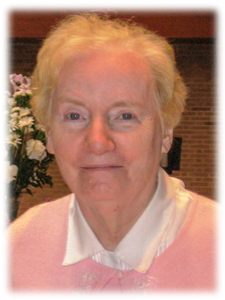 S. Brenda Walsh, OP, entered eternal life Sunday, June 10, 2018.
S. Brenda's life was celebrated Wednesday, June 13, at Siena Chapel with a Remembering Service, and Mass of Christian Burial.
Read S. Brenda's obituary by Jean Mullooly.
Read S. Brenda's obituary by S. Suzanne Noffke.
SISTER BRENDA (BRENDAN) WALSH, O.P.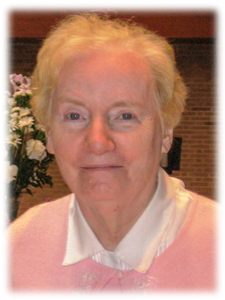 Sister Brenda Walsh, O.P., 85, passed away at Lakeshore Manor, Racine, WI on Sunday June 10, 2018.
Delia Agnes was born August 2, 1932 to James and Mary (nee: Brady) Walsh in Dangenmore, County Mayo, Ireland. On September 7, 1958 she joined the Racine Dominicans and at her reception in 1959 she was given the religious name Sister Brendan. She professed her first vows in 1961 and her final vows in 1967. In 1968 she changed her name to Sister Brenda.
Sister Brenda spent many years in service to others in teaching, religious education and work for the betterment of the people of Racine. She began her ministry in 1963 at Assumption Grotto, Detroit, MI. Places in Wisconsin where she served were St. Benedict, Milwaukee; St. Charles, Burlington; Holy Cross, Kaukauna; and St. Edward and St. Mary, Racine. She served as Vice President of the Racine Dominicans from 1974-1982. From 1982-2002 she served as the Director of the Senior Companion Program. Sister Brenda served also as the Director and Coordinator of Racine in the 80's, Executive Director of Racine 2000 & Beyond and was instrumental in helping start the Healthcare Network in Racine. She was an On Call Chaplain at All Saints Hospital and was the Community Promoter of Preaching. She became a resident at Lakeshore Manor, Racine, WI in August 2014.
Sister Brenda is survived by the Racine Dominican Sisters and Associates; her sister Cait (Ainri) O Flathuin and nieces and nephews. She was predeceased by her parents; her brothers Martin and Michael and sister Mary Walsh.
Visitation will be in the Siena Center Chapel on Wednesday June 13 beginning at 9:00 a.m. with a Remembering Service at 9:30 a.m. followed by a Mass of Christian Burial at 10:30 a.m. Interment will take place at Holy Cross Cemetery Hwy 32. Memorials to the Racine Dominican Mission Fund have been suggested.
The Racine Dominicans would like to extend their thanks to the staff that cared for Sister Brenda at Lakeshore Manor and Ascension All Saints Hospital.
Itinerant Preacher
S. Brenda Walsh has been a Racine Dominican Sister for over 50 years. Growing up in Ireland, she felt called to join a religious community and bring God's word to others, especially to the poor and vulnerable. Her ministries have taken her to distant parts of the world, including to some of the poorest villages in India and elsewhere. As the promoter of preaching at Siena Center, the motherhouse of the Dominicans Sisters in Racine, WI, for many years she continued this work by reaching out in Racine County and beyond to promote peace and justice, and by supporting and caring for others throughout her various ministries.
"I try to take the Racine Dominican charism out into the community and find different ways to bring faith and justice to light in the lives of others," explained S. Brenda. One of the major ways S. Brenda does this is through her extensive writing on peace and justice issues. She has been featured in many different sources, with articles appearing in local, national, and international periodicals and magazines. S. Brenda enjoys the responses she gets from all over the world and the connection this gives her with the global community. She also enjoys responding to the needs of others, even if that means simply being a good listener. "If you feel with someone, they will know that and it will show them that there is hope."
S. Brenda has also been deeply involved with many other programs promoting ministry and outreach. She helped start the Senior Companion Program, which connects older adults in Racine County to local services, faith communities, family, and friends, thereby giving hope and meaning to their lives. Though she no longer coordinates the program, she continues to visit 12–15 elderly people in their homes and connect them with whatever care and support they need. She also helped start a Health Care Network over 25 years ago, providing medical and dental care for people who would normally have no access to healthcare. With the help of 200 volunteer doctors and nurses, 10,000 appointments have provided free healthcare to people in need.

S. Brenda is tireless in working to spread awareness about the issue of violence in Racine. She contacts church and community leaders about how they can address violence and create a culture of peace. Even with all her involvement in these programs and others like them, S. Brenda still remains modest about her role in humanitarian efforts throughout the community. Instead of taking the credit, she prefers to emphasize the efforts of others. She likes to give people the "jump start" they need and then encourages and empowers them to take over and bring their own ideas and plans into action.
Though the different programs in which S. Brenda is involved are diverse, one can see how they all come under the umbrella of preaching. As a missionary, S. Brenda preaches not only with her words but with her actions, and this empowers others to see God at work in their own lives.
Dialogue Fall 2015 (download PDF)