S. Ruth Schaaf




"I was a stranger and you welcomed me."

Mt. 25: 35
Published in Dialogue | Spring 2017, by Jean Mullooly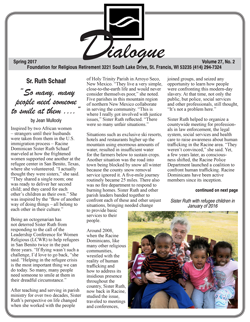 Inspired by two African women – strangers until their husbands were taken from them in the U.S. immigration process – Racine Dominican Sister Ruth Schaaf marveled at how the frightened women supported one another at the refugee center in San Benito, Texas, where she volunteered. "I actually thought they were sisters," she said. "They shared a single room, one was ready to deliver her second child, and they cared for each other's children as their own." She was inspired by the "flow of another way of doing things – all belong to each other in their culture."
Being an octogenarian has not deterred Sister Ruth from responding to the Leadership Conference for Women Religious (LCWR) call to help refugees in San Benito twice in the past three years. "If flying wasn't such a challenge, I'd love to go back, "she said. "Helping in the refugee crisis is the most important thing we can do today. So many, many people need someone to smile at them in their dreadful circumstance."
After teaching and serving in parish ministry for over two decades, Sister Ruth's perspective on life changed when she worked with the people of Holy Trinity Parish in Arroyo Seco, New Mexico. "They live a very simple, close-to-the-earth life and would never consider themselves poor," she noted. Five parishes in this mountain region of northern New Mexico collaborate in serving the community. "This is where I really got involved with justice issues," Sister Ruth reflected. "There were so many unfair situations."
Situations such as exclusive ski resorts, hotels and restaurants higher up the mountain using enormous amounts of water, resulting in insufficient water for the farmers below to sustain crops. Situations like the road into town being blocked by snow all winter because the county snow removal service ignored it. A five-mile journey routinely became 25 miles. Situations such as no fire department to respond to burning homes. Sister Ruth and other parish leaders banded together to confront each of these and other unjust situations, bringing needed change to provide basic services to their people.
Around 2008, when the Racine Dominicans, like many other religious communities, wrestled with the reality of human trafficking and how to address its insidious presence throughout the country, Sister Ruth, now back in Racine, studied the issue, traveled to meetings and conferences, joined groups, and seized any opportunity to learn how people were confronting this modern-day slavery. At that time, not only the public, but police, social services, and other professionals still thought, "It's not a problem here."
Sister Ruth helped to organize a countywide meeting for professionals in law enforcement, the legal system, social services and health care to raise awareness about human trafficking in the Racine area. "They weren't convinced," she said. Yet, a few years later as consciousness shifted, the Racine Police Department launched a coalition to confront human trafficking. Racine Dominicans have been active members since its inception.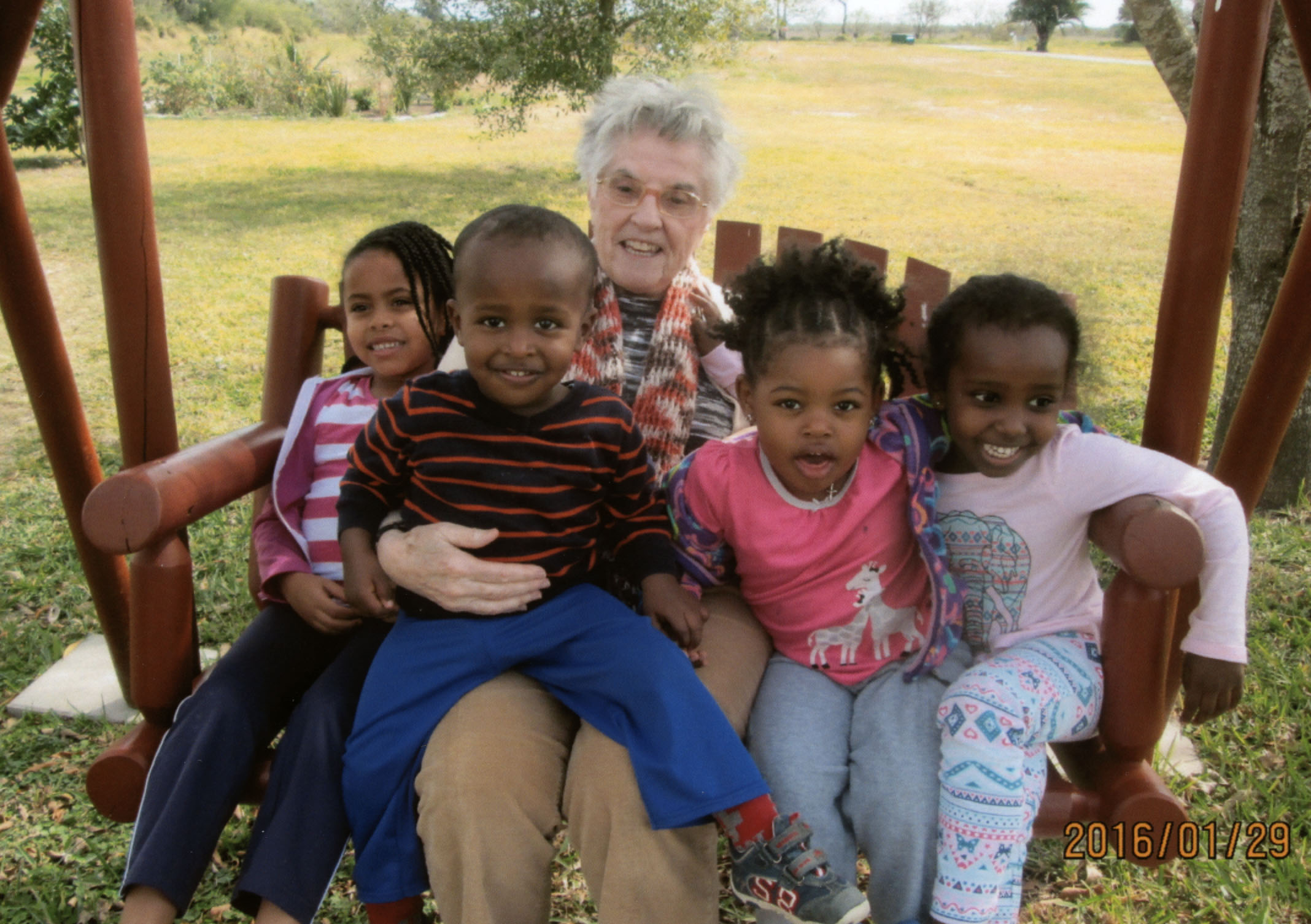 Racine Police Chief Art Howell credits the Sisters with moving the city forward in finally recognizing and finding ways to address the human trafficking travesty in its midst. At a prayer service this January (National Anti-Human Trafficking Month), he expressed gratitude to the Racine Dominicans for their foresight and persistence in challenging him and other civic leaders to face the trafficking reality.
In 2011, shortly after contributing to a TV report on the enormous problem of human trafficking at the Super Bowl (the Green Bay Packers contended that year), Sister Ruth moved to Washington state, planning to continue her anti-trafficking efforts. She quickly learned of another critical need in the region, the plight of refugees. Whereas Washington preceded Wisconsin in legislation to address trafficking, people fearfully fleeing their homelands greatly needed help. "World Relief had sites all over town," she said. "People were from everywhere – Cuba, Somalia, Ethiopia, Miramar – desperate to start a new life but traumatized by uncertainty." So she began studying the needs of and helping the refugee community.
"Millions of people in our world live in transitional uncertainty. They have nowhere to go," Sister Ruth learned. As with the people she came to love in New Mexico and Texas, she marveled at the courage and tenacity of the refugees she met in Kennewick, WA. Though she did not share their language or traditions, she quickly discovered personal bonding and friendship transcend common words. And it was here she found the power a warm, sincere smile can have for someone devastated by fear and uncertainty.
For over three years, Sister Ruth mentored refugees in Washington, helping them navigate their new surroundings and learn English. She supported them in facing challenges of their newly-adopted culture. She accepted the people, learning aspects of their native culture, respecting their humanity, and offering them the comfort of her smiles. She admired how hard they worked and how bravely they strived to assimilate into a new society.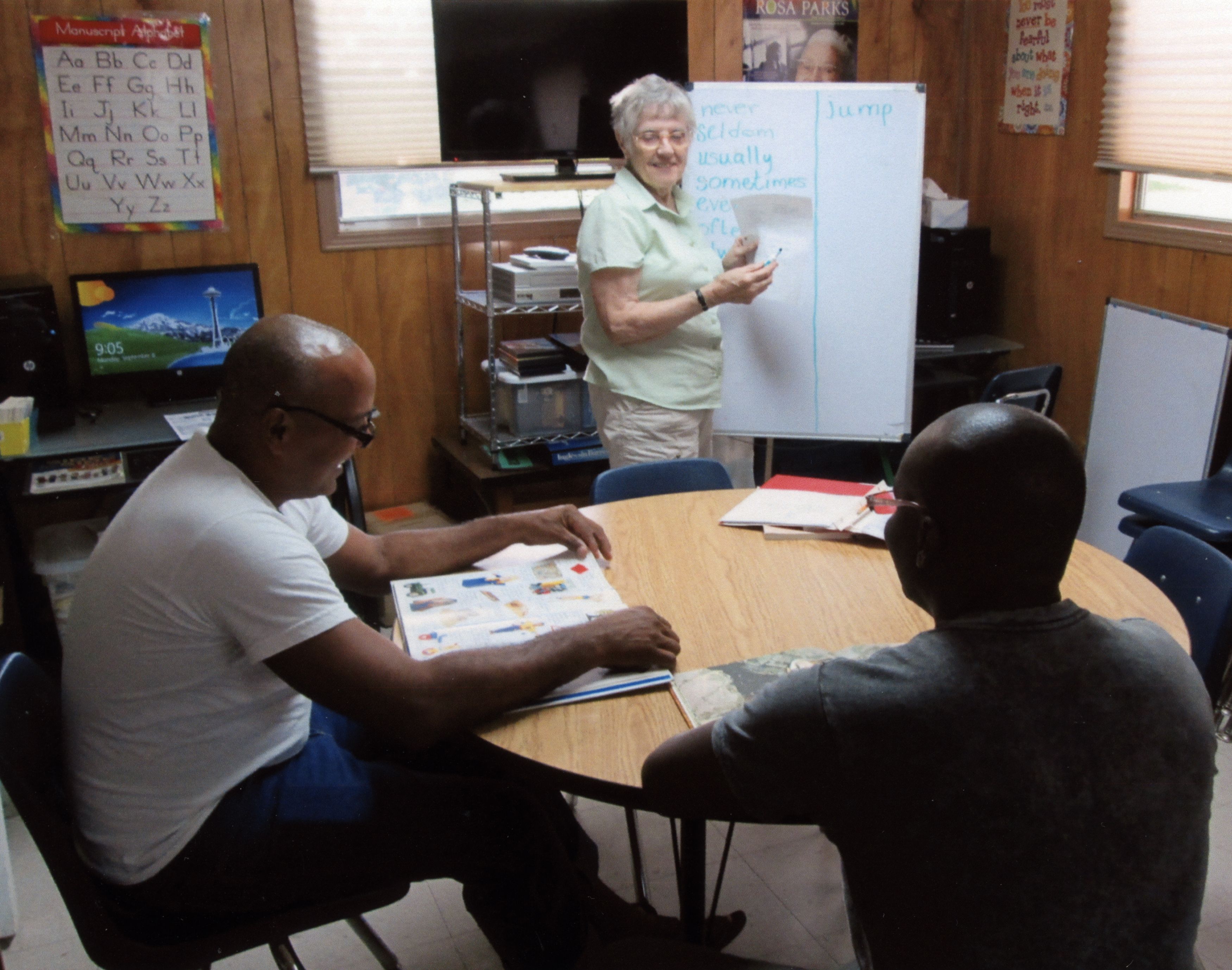 Now living back in Racine, Sister Ruth continues her commitment to strengthening and supporting refugees through the efforts of Catholic Charities and in groups studying situations like the exodus caused by the Syrian civil war. She is working with committees to discern effective ways to respond to the growing refugee crisis.
"There are so many good people who want to help," she reflected. The challenge for many is not knowing how to focus resources and energies to meet practical needs for the incoming people traumatized by war and oppression.
In Southeastern Wisconsin, at least, an 85-year-old dynamo continues to study, learn and pitch in to help wherever she can. You'll know her by the welcoming smile.
S. Ruth Schaaf
S. Ruth grew up in Mineral Point, WI, and earned a bachelor's degree from Dominican College, master's degree from Mundelein College, Chicago, and LPN license from Southwest Technical College, Fennimore, WI. She taught in Catholic schools in Wisconsin and New Mexico, including at St. Rita, St. Joseph and San Juan Diego in Racine. S. Ruth also worked in parish religious education and pastoral ministries. She served as a registered nurse in nursing homes and as a parish nurse in six Racine churches. She lives in Kennewick, WA.
S. Ruth Schaaf Celebrated Her 60th Jubilee in 2013
What first drew you to the Racine Dominican community?
My first acquaintance with the Racine Dominicans was Sister Camilla Martin, my first and second-grade teacher. She was so kind and helpful and thoughtful, I just loved her and wanted to be like her. She also taught me to read, which has been one of my life's greatest joys.

What has kept you in the community all these years?
In these 60 years of religious profession, many influences have kept me going. By nature, I tend to stick to the path I have identified as central in my life. The many sisters who have been companions and confidants to me along the way have been a great support to me. The broadening vision of the community, and the forward and inward movements of the Racine
Dominican community has inspired me and set me on fire to keep going. The many friends I have met in mission have buoyed me up and carried me along. The signs of the times have challenged me and urged me on. The quiet times of prayer and contemplation have constantly renewed my endeavor and opened new challenges for me. The longer I journey on, the more patient I am with those times that bog me down. All of a sudden it is 60 years and...where did all the time go?

What was one particularly cherished memory of your years in ministry?
A different, but very touching experience, was a New Year's Day phone call from a man who had suffered serious illnesses but resisted professional help. With the help of another man of the church where he attended, we were able to get his consent to take him to the emergency room, where he again refused hospitalization. We eventually had to go to court with him to obtain an order for admission to a psychiatric unit. He was admitted, and I visited him often. He spent the time allowed for his needs and was discharged to an out-of-town relative for more assistance. I heard nothing more of him for several months. This man called me on New Year's Day to wish me Happy New Year. To this day I am inspired by that call.

What is one thing people today should know about the Racine Dominicans?
There are so many wonderful things about the Racine Dominicans that are not well known in the world of our influence. As we look at any one aspect individually, we may see a frail, beautiful flower or a sturdy plant, but when we see with the scope of history, the picture is amazing.
In the steadfast courage that has marched down the 150 years of vision, audacity, and hope, we see a community that has endured beautifully. Today, with a median age in the late 70s, we shine as never before in the mission of the Eco-Justice Center, in the HOPES Center, in our work through the Mission Fund spread across the globe, in education at St. Catherine's High School, but also in the many centers for teaching English to immigrants in our country. We stand with women and children as they struggle to achieve human liberty and dignity in a world that is harsh to them.

We risk our security to be a voice for those who are voiceless in our time and our cities. Many of us have come from small towns and farms, but today we speak to agencies of power to bring justice in our country, our church, our neighborhoods. This is how I
see our Racine Dominican community today.

What do you enjoy doing at this time of your life?
At this time in my life, I enjoy the beautiful flowers I tend on our front and back decks. I love the 500 cherry trees that surround our house and gave us delicious red cherries, some of which are in our freezer to delight us during the winter. I love visiting the homes of Somali women where I teach them English. It is a privilege to be immersed in their culture of long, flowing, beautiful gowns and head coverings that are taken off to enfold the baby when he or she is crying. It is a wonder to come close to the suffering these women have endured in years of refugee camps while they waited for the opportunity to come to our country to live. And here I am, the one who will participate in their new life here. I love the time for prayer, the time to read and assimilate where my life fits in the panorama of human history, of human endeavor, of human reality.

S. Schaaf's 2013, 60-year Jubilarian Celebration article published in the Racine Journal Times