Sacred Land: Food and Farming (Intended for a Communal Audience)

Sacred Land: Food & Farming is an eight-session small group program developed by JustFaith Ministries that celebrates our interconnectedness with the land and those who live on it. Through prayer, videos, readings and conversation we will explore how food and farming practices affect the climate crisis, marginalized communities, and their own health and spiritual wellbeing. Learn more at https://youtu.be/XGr7242fg0A
This training is open to Racine Dominican Sisters and Associates, who are joining with the St. Francis Pathways for Justice, Sacramento, CA to facilitate this virtual Sacred Land series, Tuesdays from 2 to 4 PM CDT (12 to 2PM PDT) starting September 7th to October 26th.
Click here for more information.

Register Now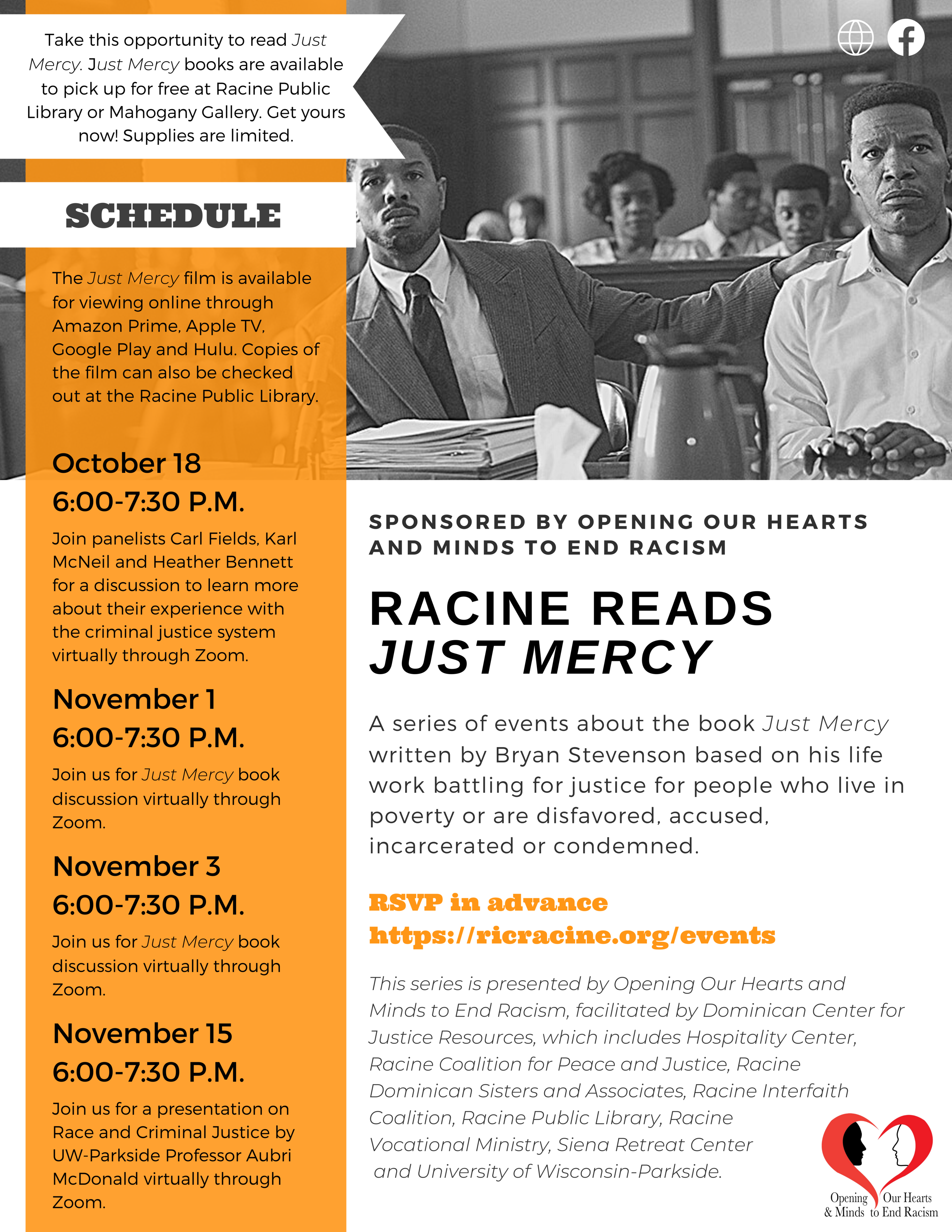 Racine Reads Just Mercy:
This series is presented by Opening Our Hearts and Minds to End Racism, facilitated by Dominican Center for Justice Resources, which includes Hospitality Center, Racine Coalition for Peace and Justice, Racine Dominican Sisters and Associates, Racine Interfaith Coalition, Racine Public Library, Racine Vocational Ministry, Siena Retreat Center and University of Wisconsin-Parkside.
A series of events about the book Just Mercy written by Bryan Stevenson based on his life work battling for justice for people who live in poverty or are disfavored, accused, incarcerated or condemned.
Click here to view the Facebook event.

Contact Us:
Dominican Center for Justice Resources: Igniting Hearts for Justice
5635 Erie St
Racine, WI 53403
Phone 262 898-4094
DCJR@racinedominicans.org