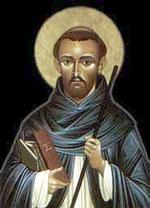 Pray, Ponder, Preach and Practice the Word of God
Some are called to formal preaching. All are called to preach from the pulpit of our daily lives…
The following is an excerpt or reflection from a previous Pray, Ponder, Preach and Practice the Word of God:
Jesus reminds the apostles and each of us: "I have told you this while I am with you. The Advocate, the Holy Spirit, whom the Father will send in my name, will teach you everything and remind you of all I have told you."
This is a good time for each of us to ask ourselves:
• How have I experienced the gifts of the Spirit in my life?
• Do I know the Spirit as friend, advocate, consoler, guide and helper?
• Does the Spirit enable me/us to live out the mission of Jesus in our time and place?
• How do I / we do this?
Today, we pray that the Spirit who is working in us and through us, will help us to be witnesses to Christ wherever we find ourselves. The Spirit is right here, right now, among us and within us. May that Spirit transform us to enable us to bring hope and healing to our world.
Reflections are coordinated by S. Carla Mae Streeter. Send comments or suggestions to preach@racinedominicans.org.

(If you do not have Adobe Acrobat Reader, click to download it at no cost: Acrobat Reader)