Shorelight Memory Care offers care and compassion for each unique individual!
Shorelight Memory Care was imagined by the Racine Dominicans and designed to provide resident-centered personal, supportive and nursing care for older adults with memory challenges.
Our hope and dream is that Shorelight Memory Care becomes known in this part of the state for excellent care with a special focus on memory needs — that it will be a place where those with memory issues can be at home and feel valued — and their families can be at peace knowing their loved ones are getting dignified, loving, compassionate and exceptional care with each resident being treated as the unique individual he/she is.
Through caring and with a quality dedicated team, the Shorelight environment will increase independence, enhance dignity and promote quality of life.
Households have been created adhering to the principles set forth by the Society for the Advancement of Gerontological Environments commonly known as SAGE. Our philosophy, predicated on the "fullness of life", demands that we seek the best possible holistic and person-centered approach to mind, body, and spiritual health care while recognizing each individual's gifts (read more about philosophy and mission below).
Located on the Siena campus with Siena Retreat Center and the Racine Dominicans, this lakeside location is ideal for pursuing enhanced quality of life and preserving sacred and spiritual relationships. Learn more about SAGE and person centered care at the Siena on the Lake website.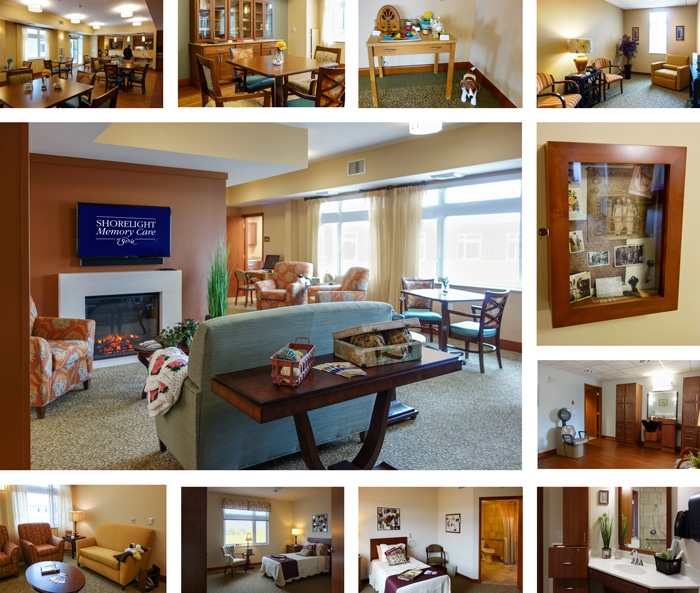 History of Mission of the Racine Dominicans and of Shorelight Memory Care
With a passion for truth, St. Dominic De Guzman, St. Catherine of Siena, and Mother Maria Benedicta Bauer, Foundress of the Racine Dominicans probed the implications of God's word in times of profound social and ecclesiastical change. What they learned in prayer, study and experience, they lived and proclaimed. Their charism (the special characteristics of their mission and values) lives on in the Racine Dominicans. This charism of prayer and study remains the touchstone of the Racine Dominican spirituality and mission, in which they are committed to truth and compelled to justice. Commitment to truth in the light of the Gospel compels them to consecrate whatever power they have, personally and as community, to sustain the fundamental right of every person to pursue the fullness of life and to share in the common good. Today such a stance demands an explicit solidarity in prayer, struggle, suffering, and hope with those who are oppressed by systems designed to serve the interest of the wealthy and advantaged.
Mother Benedicta herself came to the United States specifically to meet the needs of the German immigrants, she founded a community committed to teaching their children. This remained the primary focus of the community from 1862 until the 1960s when the Second Vatican Council challenged religious women to meet the needs of the current times. Thus the Racine Dominicans became involved in justice issues other than teaching such as domestic violence, homelessness, needs of the lonely and abandoned, teaching English as a second language, the need for a place of reflection and increasing one's spirituality.
As we looked at needs in today's world another need has surfaced, that of memory care for those afflicted with dementia of various types and causes. Currently Racine does not have a facility specifically aimed at this type of care.
Thus, Shorelight Memory Care is one facet of Siena on the Lake whose mission is:
Siena on the Lake's mission is to provide a continuing choice community focused on person-centered care. We support with passion your dignity, choices, and life enrichment."
---