Grow as a holy, ever evolving flourishing community


Support Sponsored & Other Ministries


Live out our Dominican Mission Together
Were You Smarter than a 5th Grader?
– Mare Wheeler
Class was in session on Sunday, August 25, in Siena's "Green Dining Room," with associate Connie Roybal ringing the school bell to call sisters and associates to the Back-to-School party, complete with four teams participating in the "Are You Smarter Than a Fifth Grader" contest. The winning "Green Team" indeed was smarter than a fifth grader! The party was the culmination of the school supply drive – a drive so successful that it may become an annual event! Thanks to all who watched, participated, and cheered on their favorite team. Before recess, the students enjoyed creating their own ice cream sundaes. After school, all received a genuine brown bag with goodies and sundries inside.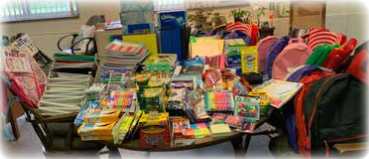 A HUGE thank you to everyone who donated school supplies for Racine-area school children. Total collections far exceeded the initial goal: to provide school supplies to outfit the school-age children at Bethany Apartments. Your overwhelming generosity was sufficient to supply not only the children at Bethany Apartments, but also uncounted students attending St. Joseph's School, St. Edward's School, and John XXIII after-school program. We also helped establish a Special Incentive Fund for S. Roslyn Skaletski's use with the children she instructs at St. Joseph's School! Racine Dominicans are A+!
Alpaca Matters
– Associate Leadership Team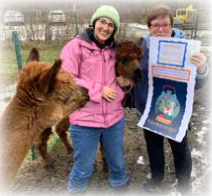 At the monthly Associate Meeting at Siena, on Saturday, November 16, the 16 associates in attendance donated a generous $330 for the Associates' Thanksgiving offering. This year the collection was for "Alpaca Matters – Putting Our Alpaca on a Firm Footing." The monies will be used for winter supplies to help protect Gaylord and the other four alpacas at the Eco-Justice Center from the infamous "Polar Vortex" and other harsh winter conditions.
Racine Dominicans Rocked the Socks!
On December 18, Scott Metzel, executive director of HOPES Center of Racine, received over 300 pairs of thermal socks and over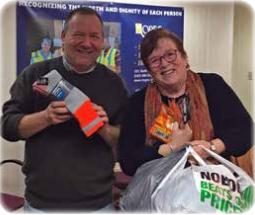 300 hand warmers contributed by the combined Racine Dominican Community of sisters and associates. The thermal socks and hand warmers are the two items, Scott says, that he has trouble keeping in stock for the many homeless the HOPES Center serves. The "Socks for Santa" Drive, which lasted just 17 days from November 29 to December 15, averaged an incredible 100+ pairs of socks and hand warmers donated weekly! At left, Scott Metzel very happily receives the shipment of socks and hand warmers from Associate co-director, Mare Wheeler.
Easter Bags for Senior Companions
– Associate Staff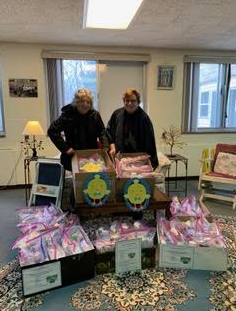 Another successful Racine Dominican community drive for one of our most cherished sponsored ministries! Starting on Ash Wednesday (February 26), and ending just 33 days later on Sunday, March 29, sisters, associates and staff contributed more than 51 complete bags of toiletries for the Senior Companion Program, Inc. Executive director Sue Craanen picked up the bags on Monday, March 30, marveling at how needed the toiletries bags had become for seniors unable to get out to the stores due to the sheltering in place order. The entire Racine Dominican community also contributed $100 to the Senior Companion Program for those with little or no food available. Thank you to ALL sisters, associates and staff – you contributed so much to the program's success!